THE LYCRA COMPANY RECONFIRMS PARTNERSHIP WITH MAREDIMODA SHOW COMPANY'S PRESENCE AT EUROPE'S LEADING SWIMWEAR EXPO TO SHOWCASE COMMITMENT TO INNOVATION, SUSTAINABILITY AND TRANSPARENCY
The LYCRA Company, a global leader in developing innovative fiber and technology solutions for the apparel and personal care industries, was again the exclusive partner of the MarediModa international swimwear expo. The tradeshow returned in person to the Palais Des Festivals in Cannes, Nov. 9-11, after last year's digital edition.
The LYCRA Company showcased its rich heritage in swimwear fabrics and latest technology innovations for the sector in The LYCRA® brand area lounge, an experiential space for customers, partners and other stakeholders. On Nov. 9, Alistair Williamson, Apparel Vice President, EMEA and South Asia, delivered a presentation on the company's commitment to innovation, sustainability and supply chain traceability.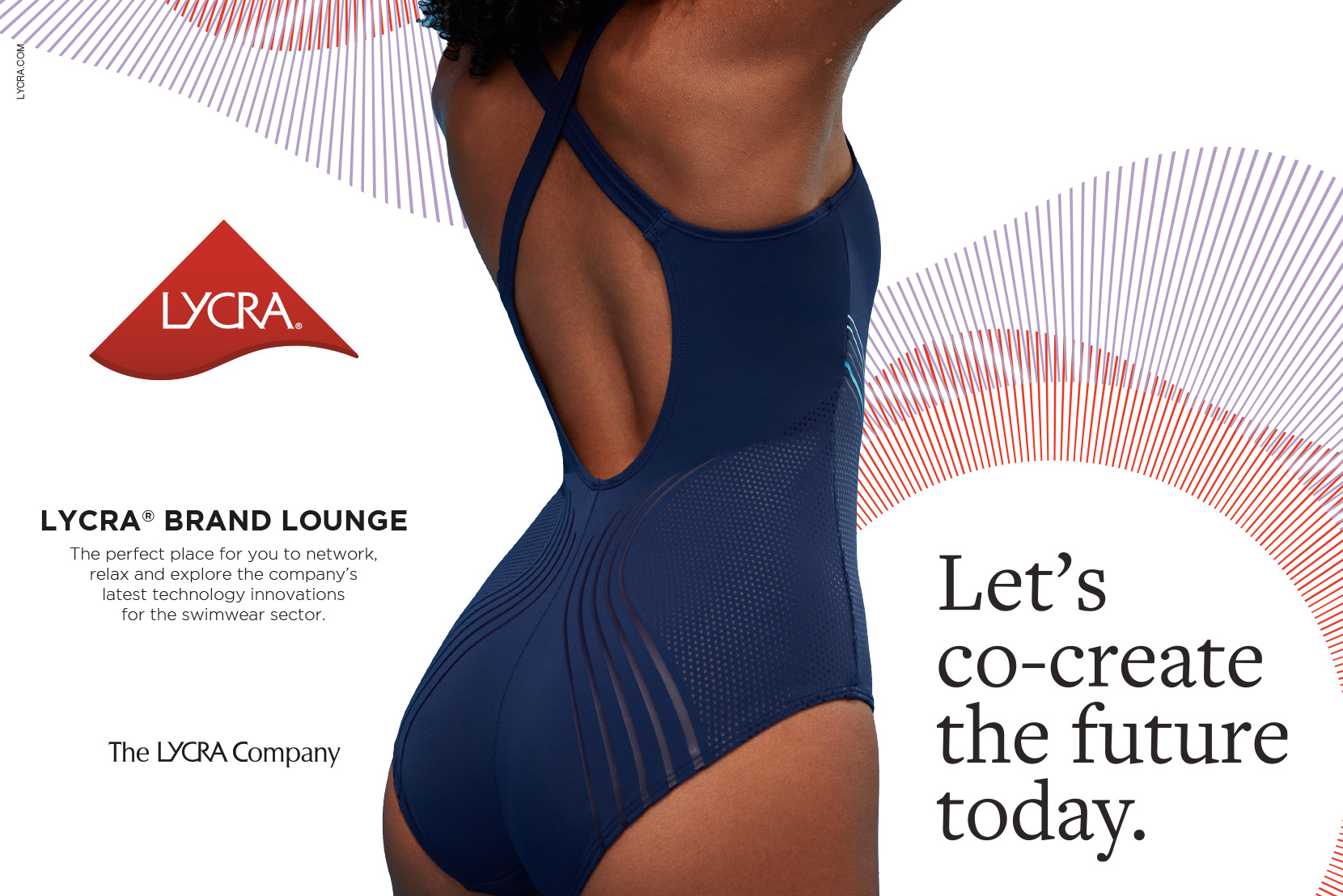 The technologies featured this year in Cannes include:
1. LYCRA® XTRA LIFE™ fiber
This world-class performance fiber protects swimwear fabrics from the degrading effects of sunscreen, chlorine and heat, and other harsh elements of the swim environment that cause fit loss and fiber breakage. LYCRA® XTRA LIFE™ fiber provides unparalleled shape and fit retention, setting the standard for sustainable swimwear.
2. LYCRA® FitSense™ technology
This breakthrough innovation eliminates the need for uncomfortable padding in swimwear, while offering comfortable support and targeted compression. LYCRA® FitSense™ technology is a patented, water-based dispersion that uses the same molecule as LYCRA® fiber, but in liquid form. Using an exclusive screen-printing technique with an array of patterns or color designs, swimwear makers can eliminate bulky inserts or extra seams that limit movement in and out of the water.
3.LYCRA® ADAPTIV fiber
The innovative LYCRA® ADAPTIV fiber will make its European trade debut in Cannes, opening new possibilities in personalized fit and inclusive sizing. Driven by consumer demands for garments that adapt to his or her body (not vice versa), LYCRA® ADAPTIV is a unique, patent-pending fiber that adapts to the functional needs of the wearer, whether at rest or in motion, by stretching to suit his or her movements and body type and deliver a better fit throughout the day.
About The LYCRA Company
The LYCRA Company innovates and produces fiber and technology solutions for the apparel and personal care industries. Headquartered in Wilmington, Delaware, The LYCRA Company is recognized worldwide for its innovative products, technical expertise, sustainable solutions, and unmatched marketing support. The LYCRA Company owns leading consumer and trade brands: LYCRA®, LYCRA HyFit®, LYCRA® T400®, COOLMAX®, THERMOLITE®, ELASPAN®, SUPPLEX®, and TACTEL®. The LYCRA Company's legacy stretches back to 1958 with the invention of the original spandex yarn, LYCRA® fiber. Today, The LYCRA Company focuses on adding value to its customers' products by developing unique innovations designed to meet the consumer's need for comfort and lasting performance. For more information, visit thelycracompany.com. LYCRA® is a trademark of The LYCRA Company
Contact
The LYCRA Company
Izaskun Hernanz
EMEA Communications Manager